sprintmidget11
Member

| | |
| --- | --- |
| Joined: | Sunday Dec 18th, 2005 |
| Location: | |
| Posts: | 715 |
| Status: | Offline |
EARHoF Class of 2017 Announced

Elma, WA, February 6, 2017…..Five individuals and one husband and wife team comprise the Class of 2017 entering the Elma Auto Racing Hall of Fame on March 18, 2017.

EARHoF President Rick Leighty released the names of Al Lytle, Dick Aduddell, Arie Callaghan, Brian Sutherby, Dick Wilskey, and Corinne and Bruce Williams in a statement congratulating the newest inductees into the Elma Auto Racing Hall of Fame.

"Another fantastic group," stated Leighty. "They cover the full spectrum; drivers, owners, officials, innovators, and outstanding sportsmanship. Our organization is pleased to be honoring these racers and their accomplishments. Congratulations to all the honorees and welcome to the EARHoF family."

ALytle from Aberdeen began his career in the jalopies breaking the track record before moving on to the semi modifieds and stock cars. He also owned cars for drivers such as Earl Fritts and Dale Underwood. Currently Lytle owns two Malloy super modifieds that he has rebuilt to show car appearance and occasionally races with his driver Tony Thomas. Lytle is also a member of the Push Rods of Hoquiam.

Port Orchard's Dick Aduddell raced one of the most recognizable sounding engines to circle the Grays Harbor Fairgrounds ½ mile. A Buick straight 8 propelled Aduddell to be one of the elite drivers of 1960s and fan favorite status. He was also known for his ingenuity and craftsmanship and built rearends and other components for himself and other racers. Aduddell was not afraid to travel and raced on most of the Northwest speedways operating in the '60s and '70s

Joining his father in the EARHoF is Brian Sutherby of Elma. A three time champion Sutherby won the '87 hobby stock and the '90 & '91 sprint car titles. Sutherby was a three time kart champion before turning to the full size racers. All of this was accomplished despite having to overcome a childhood accident that left him with a left leg that doesn't have full mobility. Since retiring from driving, Sutherby can often be found spectating at the races.

Honored posthumously will be Aberdeen's Arie Callaghan. His career only lasted from '65 – '70, because of an illness that took Callaghan early in life, but he is remember for his laugh, smile, and brightly colored cars. Willing to help others on their cars Callaghan was well liked by racers and fans. The Callaghan family has a long involvement with the Push Rods of Hoquiam, a connection they maintain today.

Dick Wilskey called Seattle home and raced all over both as a driver and an owner. Known for his immaculately prepared cars, Wilskey once won "Best in Show" in a early '70s Seattle Car Show. Highly respected by fellow competitors and track officials, Wilskey was often asked his opinion on issues and oversaw GHR track operations after the untimely death of Fred Brownfield. Wilskey along with his daughter Shawna promoted the touring NSCS sprint car series in 2007 and remains a strong supporter of Northwest racing to this day.

Shelton's husband and wife team of Bruce and Corinne Williams were car owners and EARA officers known for their willingness to unselfishly go out of their way to help others. Unknown to most EARA racers in the mid '80s is the fact that the club was struggling to survive and if not for the Williams' effort and support most likely would not have been able to continue racing. Bruce Williams will be honored posthumously. Corinne Williams can often be found at NW drag strips. Their son Tom is a 2013 EARHoF Inductee.

The 2017 EARHoF Induction Ceremony and Silent Auction will be held Saturday, March 18, 2017, at the Stay Beyond Inn & Suites in Elma, WA. Activities get underway at 6 P.M. with a Social Hour/Silent Auction, while the honoring ceremony begins at 7 P.M. Admission is $5 which includes auction number, hors d' oeuvres, and cake. Memorabilia will be on display.

All proceeds benefit the EARHoF a 100% volunteer Washington State non-profit organization in its effort to honor and preserve the auto racing heritage of Grays Harbor Raceway.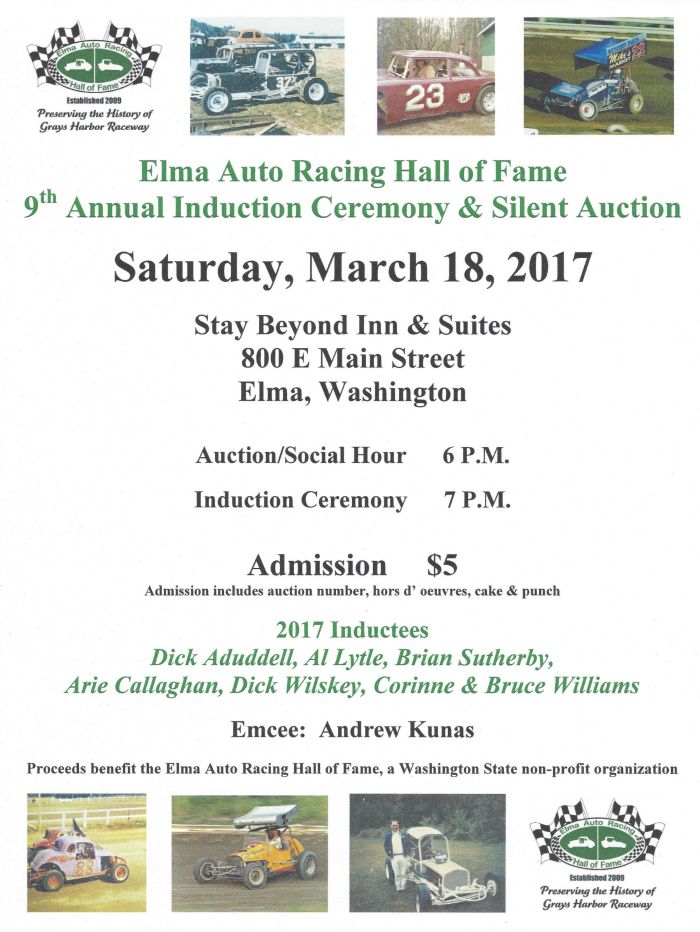 Last edited on Thursday Feb 9th, 2017 04:03 AM by sprintmidget11



____________________
Elma Auto Racing Hall of Fame
9th Annual EARHoF Induction Ceremony
Stay Beyond Inn & Suites, Elma, WA
March 18, 2017

http://www.leightyracing11.webs.com/
http://www.elmaautoracinghalloffame.webs.com